There's nothing quite like an authentic outdoor dining experience. The humble picnic has been a standard British practice for centuries, and for good reason. It's just you and the ones you love on an old wooden picnic table, enjoying a well earned rest and a hearty snack amongst the pleasant ambience of nature. It usually goes the same way, meticulously prepared yet semi-squashed sandwiches, some completely ignored fruit and enough empty crisp packets to give the park attendants anxiety. Predictable, yet thoroughly enjoyable nonetheless.
When you eat a delicious meal outside, you tend to enjoy it a lot more than normal since you're completely immersed in the moment. The dynamic nature of the environment pulls on your attention and makes you fully present and engaged, not slumped passively in front of the TV, shoveling in food whilst forgetting what you're actually eating, or watching for that matter.
When you're outside on that picnic table, you are there physically and mentally -- fully with your family and the present moment -- and that is what is so attractive about dining outside. That and the view, of course.
As the saying goes, there may be no Wi-Fi out in nature, but you'll find the best connection. So what better way to enjoy this mindful experience than with a classically styled, heavy-duty picnic bench to bring the whole family together.
They're not just for your local parks, either. A classic picnic bench will fit in well in most outdoor environments. Whether it be the humble British garden, a park or a luxury resort, you are sure to have a pleasant dining experience with our grade-A teak picnic tables.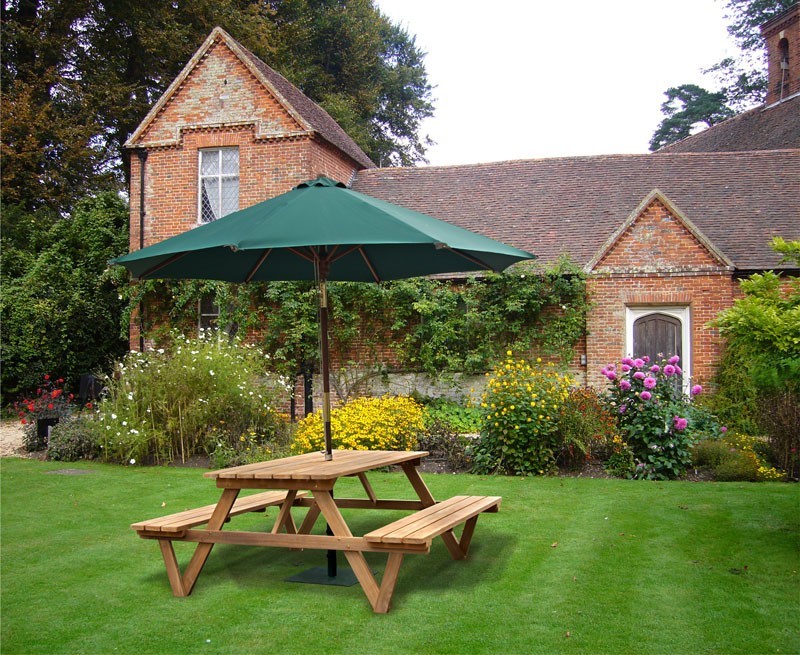 No matter what size you choose, all of our heavy duty picnic benches are built with sustainably sourced, grade - A teak from government regulated plantations to ensure your picnic bench lasts a lifetime of outdoor dining, with little worry of maintenance.
We assemble our teak garden furniture using strong mortise and tenon joints, as well as genuine European polyurethane glue and resins, so you'll never experience that frustrating wonky bench experience when the kids rattle around with excitement. You'll get to enjoy your semi-squashed sandwich in peace.
Our Wooden Picnic Tables Will Bring the Family Together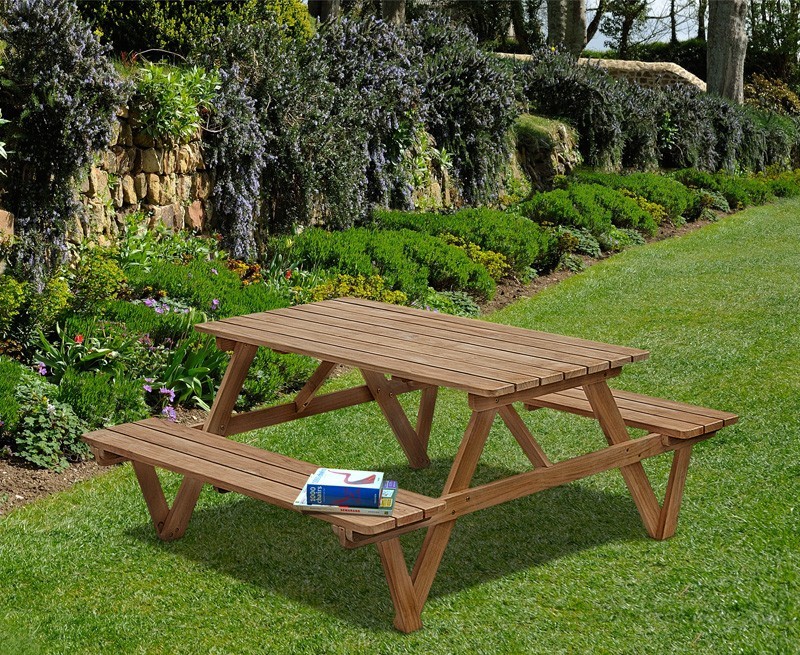 Pictured above is our 5ft teak picnic table, a customer favourite. This teak garden picnic bench offers a superb combination of dining space, solid construction and traditional style that can be easily incorporated into any public setting or discerning home for al fresco dining at its best.
Expertly manufactured in heavy-duty grade-A teak to ensure long life and aesthetic appeal, this teak picnic table has been designed to withstand the harshest of weathers without sacrificing its physical appeal or durability, making it ideal for deployment in schools, restaurants, pubs and hotels, as well as your garden. With this picnic table, there's no worry of deterioration with time.
We offer our wooden picnic tables in 4ft, 5ft and 6ft lengths though we can personalise each order to your exact requirements. Simply enter your desired specifications using the "product customisation" button on the product page and we'll get to work crafting your bespoke outdoor bench.
For more information on our range of teak picnic benches, customer orders or to simply make a purchase, call our expert team on 020 8655 6242 or email [email protected]