Planting in containers is a fantastic, manageable way to quickly inject colour and style into your garden, patio or balcony area. You can use a wide variety of plants in many colours, textures and sizes in these boxes, to enhance any outside space.
Teak planters are ideal, as they are made of a very hardy and durable wood, which can be left outside all year round. Wooden planters are also great at keeping the soil at a consistent temperature. The teak will gradually weather from a lovely golden-brown colour, to a beautiful silver-grey patina (if left untreated), so you can be sure your planters will remain a stunning focal point for many years to come.
As with all wooden planters, in order to keep the soil moist, we recommend the use of a plastic liner, such as a compost bag or pond liner. Just don't forget to pierce holes in the liner for drainage! Alternatively, you can buy a Geotextile lining, which allows the soil to breath.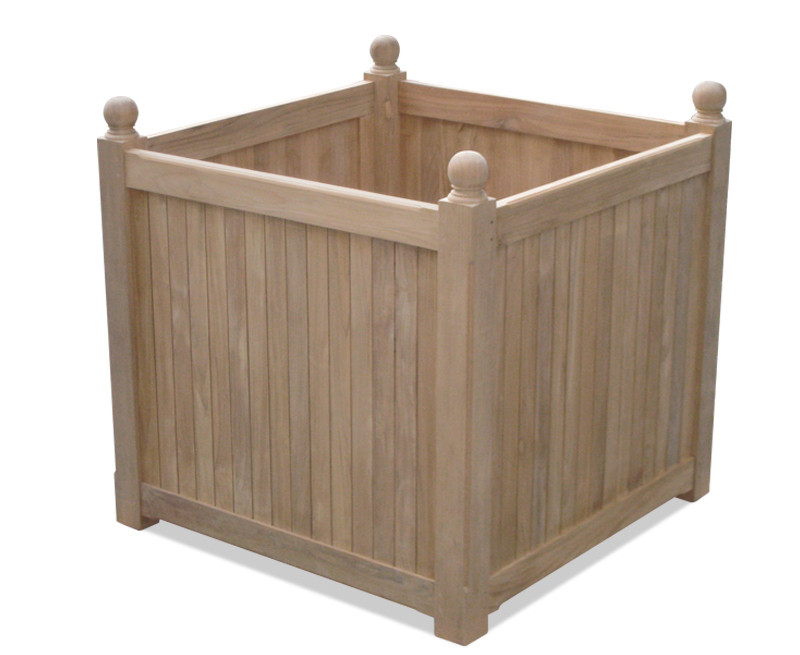 Our square Versailles Planters are inspired by the famous Parisian palace's tree-box designs, which were originally created in 1670 by André Le Nôtre for the growing of exotic and delicate citrus and palm trees at the Château de Versailles, under the reign of Louis XIV. These boxes were (and still are) made of iron and wood, and they enabled these fragile trees to be easily moved inside in the winter months and back out again in the summer, without the need for stress-inducing re-planting twice a year.
Our teak planters come in a variety of sizes, and each have strong, flat, slatted bases to allow for drainage. Our planters are delivered assembled and ready for use and are made from smooth sanded solid plantation Grade A teak, so they are built to last.
The dimensions for our readily available planters are:
Small: W 33 x D 33 x H 45cm
Medium: W 44 x D 44 x H 55 cm
Large: W 54 x D 54 x H 64 cm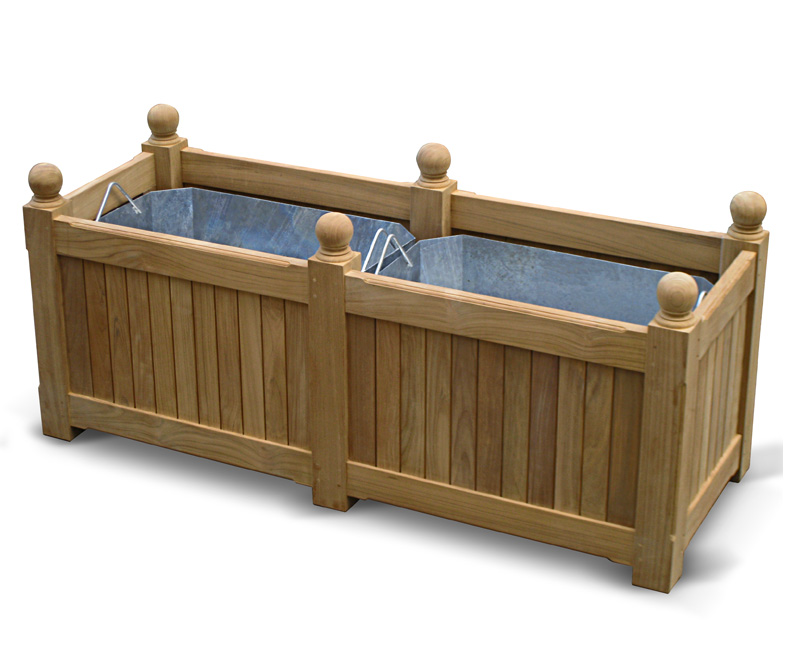 However, we are happy to make these (and other items) in bespoke sizes, and these would normally take around 6-8 weeks to arrive at our warehouse from our factory in Indonesia. Below are a couple of images of bespoke designs we have had commissioned by customers recently. One customer needed an extra-large size, whilst another asked for rectangular, trough-like planters, so we were able to confirm a design and create these unique planters for them.
Please get in touch if you have specific requirements or designs, and we will be happy to discuss these with you in more detail.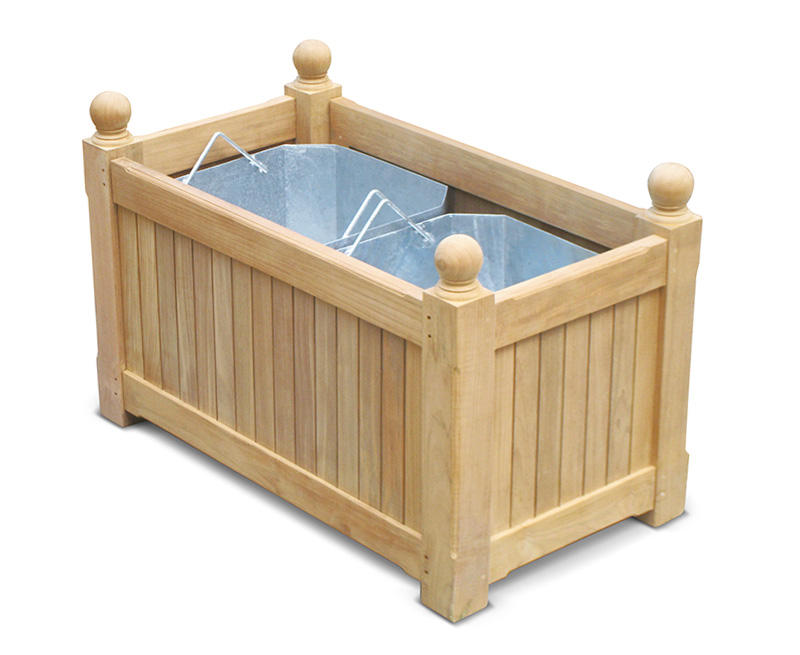 Therefore, it is safe to say that wooden planters are an excellent choice if you are looking to show off your favourite plants in containers, and our range of planters are designed to do just that. If you are stuck for ideas on how to make the most of planting in your chosen boxes, you can find some great advice online. For example, there is an article on the RHS website which discusses this.