To answer the opening question, absolutely not. Our steamer chairs are equally at home atop classical decking in any typical British garden as they are lounging by the pool in a luxury resort. Our garden steamer chairs are crafted from grade-A teak, meaning their elegant and luxurious design isn't just for show -- though their looks would certainly fit the bill -- these teak deck chairs are here for the long run.
These teak steamer chairs combine timeless design, unmatched practicality and unwavering durability to ensure that you can lounge in absolute luxury, without giving a thought to maintenance or wear and tear. What's more, you'll be able to leave your beautiful teak deck chair outside all year round virtually maintenance free. Since they are manufactured in grade-A teak, these steamers are fully showerproof and resistant to mould and rot.
Maybe you are a luxury resort looking for some equally luxurious deck chairs for your venue. You're in luck. We love working with high-end establishments and making their lounging wishes a reality. The following chairs will have your guests magnetised to your resort for years on end with their level of class and comfort. Let's take a look at our offers. And remember, we offer a bespoke teak deck chair service whereby if you need any aspect of our furniture personalised to your exact needs, we'll be happy to accommodate.
Halo Teak Steamer Chair with Cushion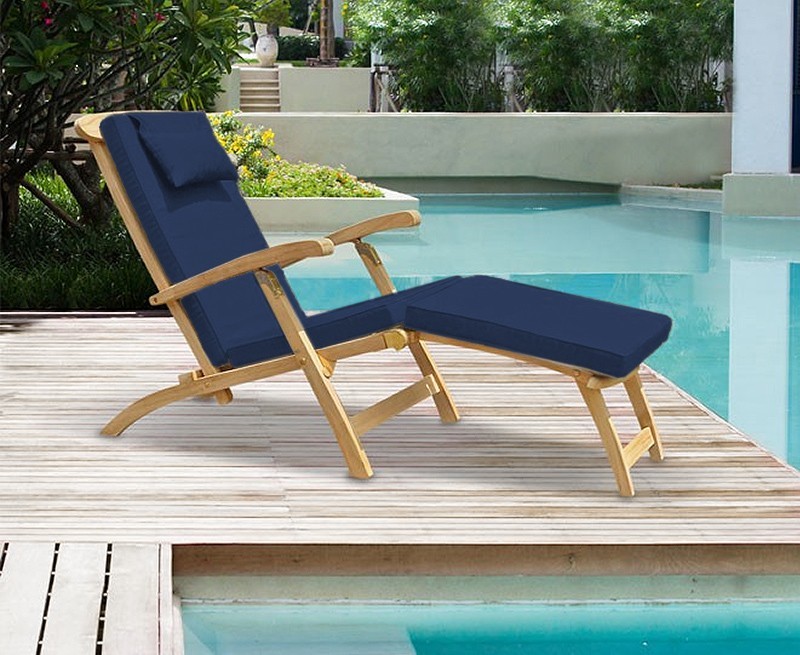 Consider our signature steamer chair offer, this high-end garden teak steamer chair presents tremendous value for money. It comes with a free extra padded cushion in choice of colours, so you or your guests can lounge in the utmost comfort. Offering a superb combination of practicality and style, this poolside garden steamer chair has been expertly manufactured by our master craftsmen using 100% sustainable Grade-A teak, to ensure it retains its aesthetic appeal and longevity.
Featuring specially designed extra wide arms, four reclining positions and an easily removable footrest, this teak garden steamer chair offers a wonderful place for your rest and repose, and would look stunning in any outdoor setting.
Benefits:
Timeless design adds that extra touch of class to your garden or resort
Folds flat for space-saving storage and transport
Assembled from Grade-A teak for maximum aesthetic appeal and durability
Very little maintenance and can be left outdoors year round
Solid brass fittings to assure years of intense use
Free padded cushion included - available in a variety of colours
We also offer this steamer chair with sturdy rubber clad wheels for easy manoeuverability or with stylish chrome fittings for maximum design and durability.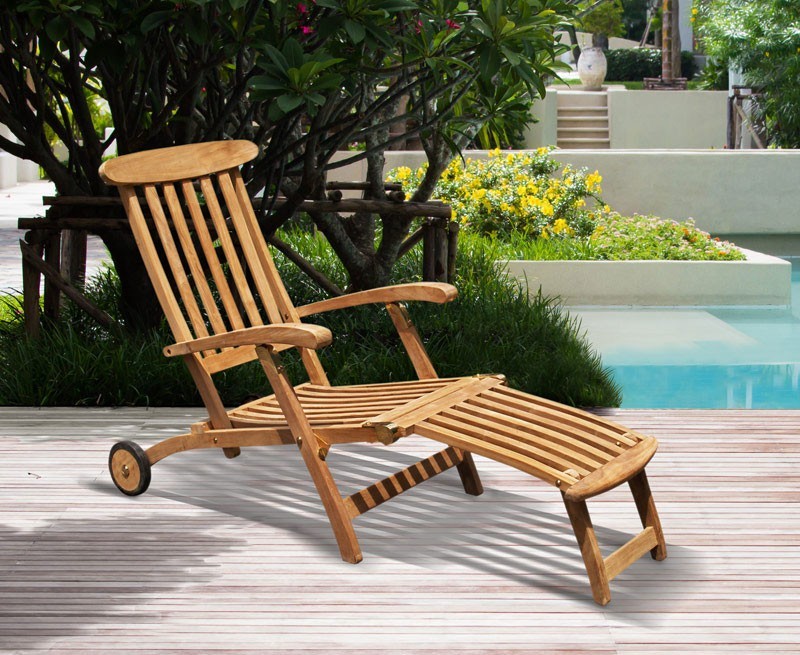 View our full range of sunloungers, or for more information please call our expert team on 020 8655 6262 or email us at [email protected]