There's nothing quite like sitting outside a small European bistro as the sun rises over the mountains. The view of the quaint, picturesque town is a marvel to see, the smell of freshly ground Colombian coffee a pleasure to smell, and the local produce a delicacy to taste. How we all wish we could benefit from such an ideal setting to enjoy our favourite breakfast and tea every morning. Though it's not always practical to fly to continental Europe to do so. It gets expensive.
All is not lost, however. There's a way to bring part of this all-immersive dining experience to your very home. It doesn't involve opening up an entire bistro of your own, or decorating your garden to match the setting of the town, no. It simply involves one of our beautifully built bistro dining sets. This way, you benefit from a touch of European bistro luxury, but within the beauty and convenience of your own home. You'll save a lot on plane tickets, too.
Make no mistake, these timeless outdoor bistro dining sets aren't only for residential use. With their incredibly robust teak and galvanised steel build quality, their level of durability is suitable for the heavy usage expected in fast-paced commercial settings. These dining sets equally make the perfect addition to your local cafe or luxurious resort.
Why don't we look through a few of our excellent value-for-money offers so you can begin dining with European class.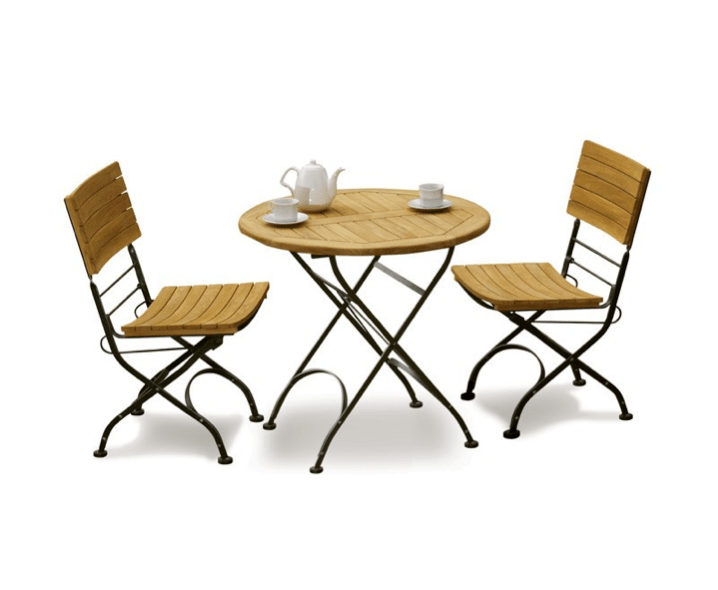 A garden favourite due to its instantly recognisable European heritage, this teak bistro table and chair set is inspired by the French restaurants in which they first classically appeared. Manufactured by experts in sustainable sourced A-grade teak and galvanised steel for long life and great looks, this teak garden 2 seater bistro set presents one of our best value-for-money offers, and is a timeless classic which will be the envy of all your friends.
Offering an elegant, welcoming appearance, this teak 2 seater garden bistro set is equally suitable for both home and civic use, and is often used in commercial settings such as coffee shops, cafés and restaurants. What's more, this outdoor bistro dining set creates a wonderful focal point in any garden setting and works well to modernise existing garden furniture.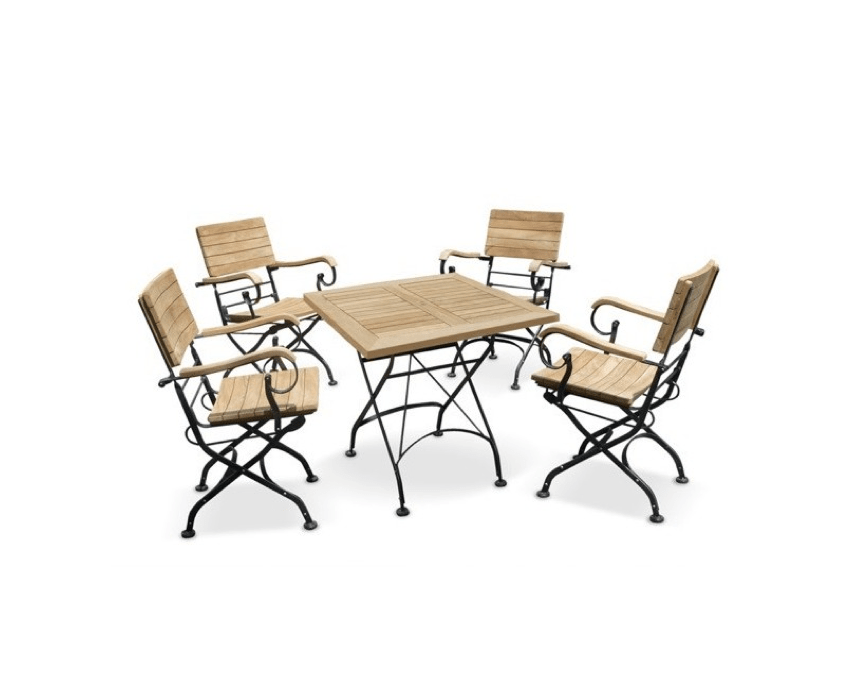 Take al fresco dining to new heights with this square bistro table and chairs set. Suited for a family or for those who enjoy dining with guests, this 4 seater bistro dining set is perfect for those looking to share the authentic bistro experience with others. Equally suited to medium sized cafes and resorts, this hard-wearing, low maintenance teak and steel outdoor bistro set will set your commercial setting apart with its European appeal.
Expertly manufactured in plantation grown Grade-A teak and galvanised steel for long life and aesthetic appeal, this square bistro table and chairs set has been built to last and can be left outdoors all year round in any weather - meaning you and your diners can be fully immersed in the European bistro dining experience, without interruption of maintenance or wobbly chairs.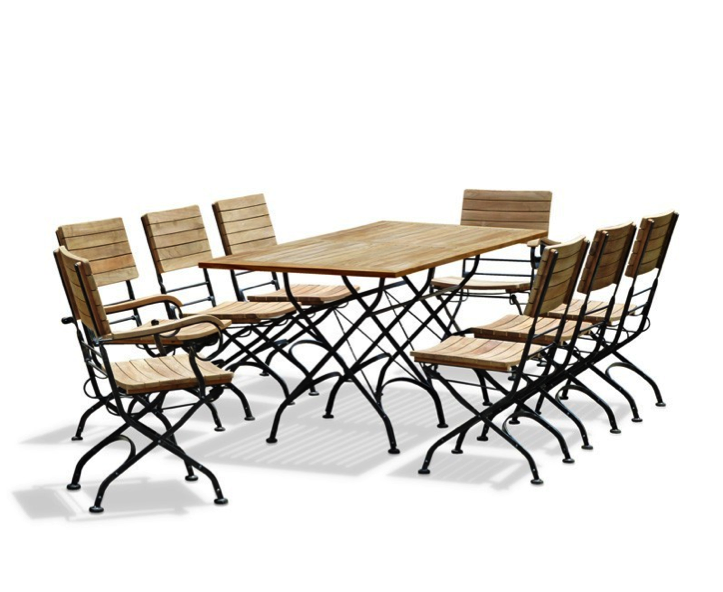 This tastefully designed, commercial-sized rectangular teak bistro dining set with 8 chairs is perfect for al fresco dining in the typical British garden, restaurant or luxury hotel. A garden favourite due to its classic design and ability to fit the whole family in wondrous comfort and style, this 8 seater teak Bistro set is ideal for larger gardens or resorts.
Built by our master craftsmen using only the highest quality grade-A teak, this large bistro set will provide ample seating, without worry of maintenance.
Combining the benefits of style and practicality, this teak garden bistro set can be effortlessly folded and stored when not required, enabling you to make the most of your outdoor space.
View our full range of Bistro Dining Sets or call our friendly team on 020 8655 6242 for further information.