We pride ourselves on delivering more than just the quality teak outdoor furniture you love. We believe in delivering the ability to form memories and host amazing, fun-filled times with your luxury furniture for decades. Furniture you can sit in for hours, deep in conversation and revel with the ones you love.
We aren't blowing our own trumpet, we just know that we deliver great experiences and we feel the need to share the possibility for those experiences with you. Here are 10 reasons you'll love buying with Corido:
1. Grade-A Teak for a Grade-A Time

You know that high-end garden furniture starts with the wood quality it's built from, this is woodwork 101. That's why we source our plantation-grown grade-A teak from Perum Perhutani on the island of Java. This way you know your furniture set is destined to host those family fire pit nights under the stars for decades to come. Less time on maintenance, more time al fresco dining.
2. We Treat Our Teak Right

Unlike many companies who build their own furniture, Corido is not a budget manufacturer. We know that high-quality wood needs high-quality treatment, that's why our teak is properly kiln-dried to the industry gold standard of 12% moisture levels, to prevent future warping and splitting of your beloved furniture.
Budget manufacturers simply leave their poor-quality teak out in the open air to dry. Java is an extremely humid island, so that's a lot like trying to dry clothes in a steam room – impossible!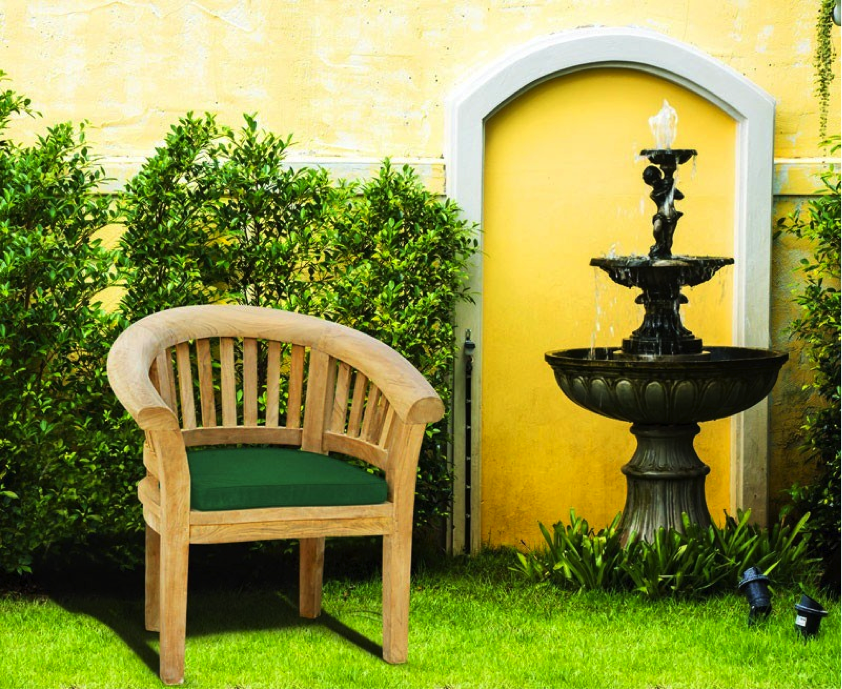 3. We Manufacture for a Lifetime of Luxury

Again, shady manufacturers skip crucial steps in the sourcing and manufacturing process, such as using cheap glues and flimsy joints between component pieces. We think this is unacceptable, so we use extremely strong mortise and tenon joints and high-quality wooden dowels for teak garden furniture with longevity. You'll get to enjoy a creek-free lounging experience, and we'll have peace of mind.
4. Personalisation? No Problem
In the slightest chance you don't find the furniture that meets your exact needs in our fantastic range, we will happily craft your bespoke garden furniture to your exact tastes. Simply pick the furniture closest to the design you have in mind, tell us the dimensions, design changes and finish you desire and we'll get to work. You'll have your personalised hardwood teak furniture ready to enjoy in 8 weeks or less.
5. Say No to Flat pack, Our Products are Crafted by Artists

With our master craftsman on your side, you'll wonder why you ever purchased that infuriating-to-assemble flat pack garden table in the first place. Our teak garden furniture is borderline art. Pick any piece from our range, put it in a modern art museum and watch it be the star of the show. Our craftsmen create flawless designs to bring your garden's aesthetics to the next level.
6. Speaking of Assembly

We know how annoying it can be having to assemble any new furniture with the typical nonsensical instruction manuals and their microscopic writing. At Corido, we deliver ready assembled garden furniture that's ready to be enjoyed the second it lands in your pristine garden.
7. Together, We Can Save the World
Our government-owned plantations in Perum Perhutani are subject to the strictest regulations on teak usage. Everything from age, size and number of trees felled is closely monitored. Combine this with their constant replanting of teak bulbs and we have a 100% sustainable plantation. What does this mean? We use less teak than we produce, a feat literally impossible for our plastic and metal alternatives at the current recycling rate.
8. Our Prices Reflect our Quality
There are budget sellers out there, and a lot of them. Don't be easily fooled into thinking you're getting the bargain of the century. If prices are low enough, you can bet that crucial manufacturing steps have been skipped, and the only one who will be left rubbing their hands together in the end is the seller.
We don't slash our prices because we don't slash our manufacturing. We believe in fair, honest pricing which reflects the long, thoughtful and meticulous work we put into our craft.
9. We Have Industry Leading Customer Service

We understand that the most pleasurable buying experiences don't end with the exchange of goods. Corido believes in providing the highest quality of customer aftercare possible, that's why our team of knowledgeable experts are willing to help anyway we can following your purchase, should you need us. Though with the level of quality seen in our furniture, the only reason you'll need us is to decide what to buy next.
10. What This All Comes Down To

Finally, we know that nobody buys furniture as luxurious as ours to merely add visual appeal to their garden. You buy our bespoke teak garden furniture to form memories in. To relax on those hot summer weekends, or those late autumn nights with the ones you hold dear, to convene, to laugh and to love. That's the ultimate experience which comes with owning our luxury garden furniture. It's time you had yours.
--
View our full range of exquisite teak garden furniture – there's still time to get ready for Summer 2017! For help on personalisation or for more detailed information on our range, contact our helpful team on 020 8655 6242 or email [email protected]